NUA Receives Approval of Arts Project of 2023 National Social Science Fund of China (NSSFC)
The National Art & Science Planning Leadership Group Office released the list of approved Arts Project of 2023 National Social Science Fund of China (NSSFC) recently, which includes the Theoretical and Practical Study of Ideology in Chinese Life Aesthetics and Its Contemporary Design (No. 23ZD13) in the charge of Prof. Zhang Linghao, NUA's president in the identity of chief expert. So far, NUA has received a total of 8 approved projects under "Arts Project of 2023 NSSFC", ranking among the top colleges and universities nationwide.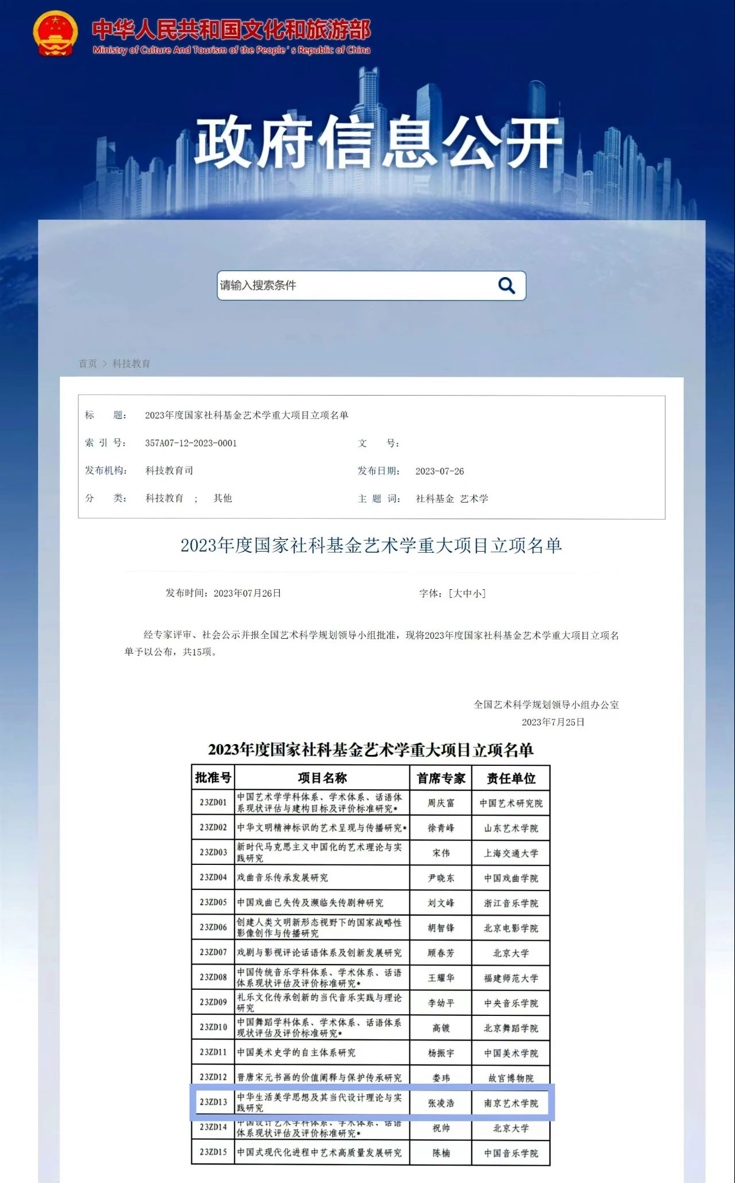 As the top-level research projects in art studies in China, the "Arts Project of NSSFC" embodies the highest level in China's theoretical study of art. Before approval, all projects need to undergo several procedures, such as recommendation for topic selection, expert argumentation for screening, selected topic release, expert review, etc.The competition is fierce, with only 15 projects approved for this year.
The Chinese culture is well-established and long standing while the Chinese civilization is extensive and profound. As explicitly pointed out in the report on the 20th CPC national congress, "we should inherit excellent traditional Chinese culture and intensify the spreading and influence of Chinese civilization." As the spiritual identity and cultural essence of the Chinese civilization, ideology in Chinese life aesthetics plays a critical role in pushing and leading the advancement of cultural confidence and self-improvement, establishment of Chinese discourse and narration systems, and reflection of China's image. On the basis of realities in China, generations of scholars have made great efforts in studying China's ideology in traditional design, life aesthetics, etc. and its contemporary design towards the international academia.
The Theoretical and Practical Study of Ideology in Chinese Life Aesthetics and Its Contemporary Design project is aimed to, from interdisciplinary perspective, further intensify the exploration and review of ideology in Chinese life aesthetics, interpret the aesthetic connotation and epochal value of the ideology, promote the inheritance, development, transformation and innovation of the ideology and integrate the ideology into the concrete practice of the modern design with Chinese characteristics, by focusing on the new strategic requirements for "national culture confidence and self-improvement", the contemporary new context of epoch development, and the pluralistic construction and multidimensional practice of contemporary design theories on inheritance, innovation, and spreading of ideology in Chinese life aesthetics and by combining theories with practice. The project is divided into 5 sub-projects, which are respectively focused on the origin of ideology in Chinese life aesthetics and its design value, the ideology and its daily design innovation, the ideology and apparel fashion design, the ideology and visual design &communication, the ideology and digital experience, etc., so as to study the contemporary renaissance of the Chinese culture systematically and in-depth.
Prof. Zhang Linghao acts as the chief expert for this project, of which the 5 sub-projects are in the charge of Prof. Hu Fei (dean and national talent) of the College of Design and Innovation, Tongji University, Prof. Shen Lei (chief expert in the brand clothing industry chain of Jiangsu) of Jiangnan University, Prof. Jiang Jie of the School of Design of NUA, and Prof. Zhang Ming of the School of Industrial Design of NUA respectively. Prof. Zhang Linghao has long been engaged in the studies of theoretical methods, system innovation, design strategies, etc. of contemporary industrial design driven by significance and his research achievements have exerted extensive influence. This project links all prominent scientific research talents from NUA, Tongji University, and Jiangnan University. All project directors are well-known experts and scholars in the field of design research and innovative practice, with the experience and accumulation in exploring the frontier fields of inheritance, innovation & communication, and digital fusion of traditional Chinese culture. As life aesthetics is a matter of quality improvement and value reshaping about people's good life in the new times, the project group actively associates ideology in Chinese life aesthetics with modern design and new contexts such as user, economy, technology, and society and establishes an independent theoretical and discursive system of design based on contemporary contexts and China's realities. From the perspective of designing cultural value, this project lays emphasis on how to integrate Chinese life aesthetics design with global culture and international communication, in order to enhance spread and influence of the Chinese culture.
As a main university in the field of China's art theory and design science, NUA complies with the major strategic tasks, such as a powerful cultural country and S & T innovation, in building the design disciplines. With a focus on the planning requirements of discipline system, academic system and discourse system with Chinese characteristics, style and manner, NUA lays emphasis on the comprehensive strength and research in frontier of design and research and intensifies the integration of disciplines. As NUA's another major achievement in boosting the construction of "peak planning of design discipline" that the university has promoted constantly, this project fully embodies NUA's research strengths in the theory of design science and crossover studies and its implementation is of great importance to promote NUA's construction of a high-level university and inter-discipline.