School of
Media Arts & Communication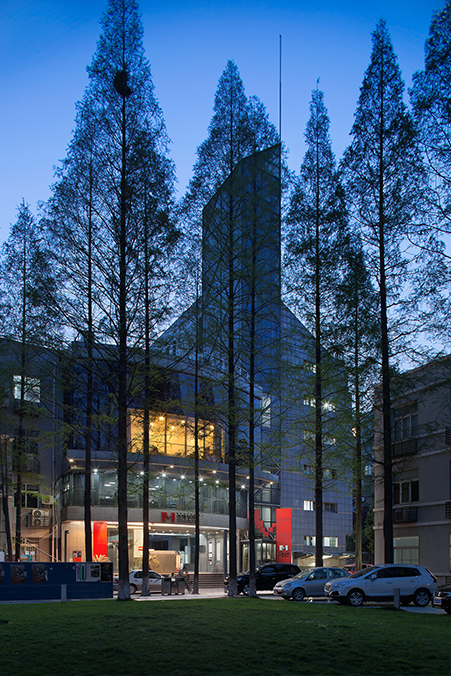 Nanjing University of the Arts (NUA), with its motto of gradeur, brevity, profoundity, beauty, and innovation, is a century-old comprehensive higher art university with great influence both at home and abroad. The School of Media Arts and Communication of NUA, founded in 2005, is a forward-looking teaching unit that integrates art with contemporary media technology and information technology, and adapts to the shift towards video content of global information.
The School takes medium and art as two characteristic keywords, emphasizes the combination of art and technology, and prioritizes the characteristics of interdisciplinary integration, cross-major combination, and practice-based teaching. With a multi-layer teaching system, the School has more than 1600 undergraduates, master's students and doctoral students. It has a center for post-doctoral studies in Digital Media Art, a doctoral program in Digital Media Art, a master's program in Radio and Television Art, and seven undergraduate programs in Radio and TV Writing & Directing, Animation, Digital Media Art, Recording Art, Photography, Advertising, Film and TV Photography & Production.
In terms of talent training, it focuses on cultivating modern interdisciplinary talent who possesses the theoretical foundation of mass media, is proficient in digital audio and video technology, network media technology, radio and TV animation writing, directing and production technology, is familiar with relevant laws, regulations and market operations, possesses advanced theoretical knowledge of mass media, strong planning ability, practical ability and certain image, animation and music creation ability.
Key Elements of the School
Medium
Mass media is featured with the medium. The study of media communication and media art is the most typical feature that distinguishes the School from other secondary colleges in NUA. Both the broad sense of artistic medium and the narrow sense of media communication and media art embody the distinctive characteristics of the School.
Art
NUA is a well-known comprehensive higher art university in China. Its content-rich, complete and solid artistic ecosystem gives rise to a good art climate, thus forming a profound artistic heritage. Secondly, the School takes artistic expression as the feature of its majors to distinguish them from similar majors in single-discipline art colleges and comprehensive universities.
New Media
Relying on the new media platform based on the Internet and digital technology, the School focuses on digital art creation and the application of digital technology in art in the field of media art and media communication. It has established a new teaching model of Internet plus, to investigate the relations between new media and artistic creation and between new media and artistic works.
As for practice-based teaching, the School emphasizes the artistic, practical and application-oriented education, takes the industrial standards and professional artistic level of modern mass media as an important indicator for talent cultivation, and cultivates high-quality versatile talent with strong practical ability, modern mass media concept and artistic accomplishment, and practical creation ability.
Animation
National First-Class Undergraduate Major Construction Unit
Features
In the 1930s, Suzhou College of Fine Arts, founded by Yan Wenliang, set up an animation major and was engaged in animation R&D and animation talent training. In the 1950s, Professor Qian Jiajun and Associate Professor Fan Jingxiang led the establishment of the Animation Department, with a two-year schooling system. It was the earliest animation major established in China and had trained many famed animation masters, such as Yan Dingxian, A Da (Xu Jingda) and Hu Jinqing. In 1952, it was merged into Beijing Film College (now Beijing Film Academy). In the 1990s, with the rapid development of China's animation industry, NUA resumed its animation program in 1999.
The Animation Department is one of the second-class characteristic major construction units of the Ministry of Education. For more than ten years, the Animation Department has developed into an important base for the teaching, research and creation of modern animation art in China, relying on NUA's comprehensive teaching resources of fine arts, sculpture, design, music and other disciplines. After years of construction, the Animation Department has forged a relatively complete animation teaching system across disciplines and fields in terms of animation teaching and research, which is based on painting, design and music, guided by film theory, and supported by digital media technology and other media means.
In recent years, with the international art exploration and application expansion related to animation, the Animation Department is facing the transformation from the traditional discipline structure supported by art + technology to the new model of integration + experiment. In 2015, it established a teaching and research system consisting of cultural originality, experimental art and digital comic image development.
Radio and TV Writing & Directing
Features
In-depth Combination of Art and Medium
Laboratory Teaching System
The School has several high-standard and high-level experimental teaching centers, such as the National Experimental Teaching Demonstration Center of Digital Media Art and Jiangsu Practical Education Center of VR Art. There is a high-definition film and television laboratory, a digital image laboratory, an audio-visual high-definition production and review hall, a film and television dubbing and foley studio, a digital image production room and other experimental teaching places specially built for this major
The major of Radio and TV Writing & Directing is rooted in the School and supported by rich media resources and platforms, forming a school-running feature that integrates audio-visual art and media communication, which is also a unique advantage that distinguishes it from the film and television art majors of other art colleges.
This major has gradually developed an open teaching model that is horizontally integrated with the industry. With the leadership of professional teachers and the extensive participation of students, this major has carried out various forms of horizontal project development coping with the industry. The open teaching model has been applied to multiple platforms of the industry, university and research institution, thus cultivating a large number of versatile audio-visual art professionals.
This major has established the mode of joint work in teaching and creative practice. Through the establishment of an interdisciplinary team of instructors and cross-major linkages, the comprehensive characteristics of film and television audio-visual art have been fully brought into play.
International Cooperation
Relying on Forward-Looking and Cutting-Edge New Media
Standing at the forefront of media development, the Radio and TV Writing & Directing major grasps the latest trends of audio-visual art development and communication in the era of new media, aiming to cultivate audio-visual art talent for the development of new media.
Since 2010, this major has cooperated with some related colleges in Europe and America on half-year or one-year exchange programs with a credit transfer system. It has organized and participated in short-term activities such as European Short Film Exhibition and Asia University Film Festival. In 2017, it formally established a 1+2+1 cooperative teaching model with the broadcast journalism major of Troy University in the United States. Under this model, students can spend their first and fourth college years in NUA, and the second and third years in Troy University. With the benefits of the credit transfer system, students can obtain degree certificates from both colleges after graduation.
National First-Class Undergraduate Major Construction Unit for Radio and TV Writing and Directing
Training Objectives
The program of Radio and TV Writing & Directing aims to cultivate interdisciplinary professionals who have a solid theoretical foundation in digital media technology and art, master the basic knowledge and skills of digital technology applications in radio, film and television art, and are competent in video program writing and directing, film and television post-production and related art creation and research in the fields of radio, film, television and Internet.
Main Courses
History and theory courses: Audio-visual Language, Brief History of Chinese and Foreign Film and Television, Media Creativity, Media Literacy, Media Aesthetics, Introduction to Communication, Television Writing and Directing, etc.
Technical courses: Post-production Software, Professional Multimedia Software, Fundamentals of Applied Photography, Fundamentals of TV Editing, Fundamentals of Audio and Sound Effects, TV Shooting, Channel Branding, etc.
Creation courses: Image Narrative Expression I and II, Image Lyrical Expression I, II and III, Image Documentary Expression I, II and III, TV Program Planning, etc.
Advertising
The Advertising Department was established in 2008. With NUA's profound artistic heritage, combined with the School's brand-new modern mass media education concept, this department not only focuses on the cultivation of students' artistic creativity but also emphasizes the education of theoretical connotations.
Positioning
The Advertising program focuses on the two keywords medium and art, highlights its characteristics compared with similar majors in other colleges, underscores the teaching of advertising planning, and takes the research of media communication strategies as the core of major development, with emphasis on the media communication and new media.
Training Objectives
This program requires students to possess the ability of advertising theoretical research, advertising planning and media communication strategies, to systematically study the basic theoretical knowledge of advertising and related interdisciplinary fields, and to accept the basic training in scientific research methods, creative thinking modes, and business cooperation consciousness. In this way, students will become interdisciplinary professionals who have the basic ability in market analysis, advertising planning and creativity, media strategy formulation and implementation, and can engage in advertising planning and implementation of media communication.
Advertising
Faculty
The Advertising Department has a well-structured team of professional teaching staff. The teachers have doctoral and master's degrees in art and communication, and more than 75% of teachers are associate professors or above.
The department has a professional advertising studio, a digital advertising laboratory, a national-level digital media art experimental center, off-campus practice bases and other teaching resources, with perfect teaching conditions.
Curriculum System
The department has focused its curriculum on advertising planning and media communication, with journalism and communication as the core discipline, including basic discipline courses, basic major courses, and comprehensive and interdisciplinary courses.
Students' Works